I got into acting by accident. Literally. I fell off my motorcycle and lost my left arm. Being an amputee was going to lead to some big changes in my life but I never guessed it would turn me into an actor
It was 2001 when I suffered a spill causing several life-threatening injuries and one life-changer. In the operating theatre, the surgical team working to save my life removed my left arm. It was thoroughly FUBAR and there were far more serious injuries to address, so they lopped it off and got on with patching up what was left.
A year and a half later I'm at Ealing Studios being led from my dressing room to the soundstage where I will be performing. I'm walking along corridors lined with framed photographs of some of the greatest names in acting.
I have no training as an actor and no experience. I have not performed on stage since a junior school play and I have no ambition to be an actor. Yet, here I am, about to play a principal character among an A-list cast for a prime-time BBC television show, in one of the world's most famous film studios. How did this happen?
Where are we going?
Before my accident, I had been a regular at Modern Ballroom & Latin dance classes at the Rivoli Ballroom in south-east London. I had attended for a couple of years and had become quite accomplished. After my accident, as I got back on my feet, I went back to my dancing and relearned without the left arm.
One evening, in the break between classes, fellow student, Sarah Hughes, asks me if I have ever done any acting, or thought about doing any.
'No,' I say, 'why, where are we going?
'Well, you know what I do,' she continues and, indeed, I do. Sarah is a casting director. She goes on to explain that she often gets castings needing amputees but there are few amputee actors.
'I know you are good with taking directions on movement,' she says, 'so I might be able to find you some work if you're interested.'
A few months later, here I am at Ealing Studios about to play a part in the filming of Strange, a horror-drama with some dark humour, starring Richard Coyle and Samantha Janus (now Womack). I had no audition for the part because Sarah was casting for the show. There was a brief telephone conversation with someone on behalf of the director, an exchange of photos by email and then a BBC contract fell through my letterbox.
Learning the tricks of the trade
The casting I did undergo was a 'life' one to make a full-body mould of me for my costume. I was to be wearing prosthetic make-up from head to toe and for this, Millennium FX wrapped me in Polyfiller and cling film so that I ended up looking like a vacuum-packed mummy. I learned my first trick of the acting trade here; if they are going to make a life-casting of you, shave beforehand.
Putting the prosthetics on me before each day of filming took a team of four people the best part of six hours. Standing in my dressing room in a jockstrap, making conversation with these strangers, they taught me some more lessons about acting:
Everyone in the film business has worked with everyone else;
Your next job will come from the connections you make on this one;
There is an interminable amount of waiting, and
There's quite a lot of nudity.
On set, facing the prospect of acting with neither training nor experience to draw on, I thought; 'I'll just do what the director says.' Turns out, that is another trick of the trade.
My terror at being in front of the cameras was lost in the busyness of the production process and the support and encouragement from the team. I felt comfortable very quickly and found myself able to think cooly about what I was doing and even make one call of my own.
In the course of our fight scene, I pick Richard Coyle up by his neck (he's on a harness) and I throw him against the wall and throttle him. While holding his throat, I tense my arm and shoulders and give all the appearance of crushing his throat as hard as I can, but keeping my grip as light as a feather.
This might seem a no-brainer but it is not that simple. At the subsequent wrap party, when I confessed to Richard that I had no training in acting and that Strange was my first acting job, he complimented me, in particular, for having not actually strangled him. 'Many an experienced an actor would not have had that presence of mind', he said.
In the years since, I have learned how the intensity of the moment and the commitment of actors to their trade can cause the division between fiction and reality to blur, and that can be dangerous. Another important lesson I took away from my first role, then, was that no matter how whole-heartedly you commit to your acting, you must never forget that it is all pretend.
The actor's life for me
After filming, it took two hours to get all the prosthetics off of me and it took two days of filming to shoot my scene. I was put up in a hotel near the studios because the days were a 4am start and a 10pm finish. I had a chauffeured car which fetched me the night before filming started and took me home when it was over. While at the studios, I was looked after with things to eat, drink and read as suited my whim. On set, as the crew reset for another take, I sat and chatted with Samantha and she sang the songs from Grease to me. I felt like a film star.
Next time I saw Sarah, I told her I wanted more. She recommended me to an agent, Louise Dyson, who signed me up right away and I joined Equity.
How to corpse like a pro
Stuart Bray was the man in charge of the prosthetics applied to me in Strange and, as a consequence, I spent more time in his company than anyone else on that job. And most of it was hands-on and involved rubbing alcohol. We came out of it the best of friends and it was Stuart who landed me my second acting role and my first movie – Shaun Of The Dead.
In a production meeting, Stuart was asked what sort of decaying zombie look he could create and he volunteered that he could produce zombies with complete limbs missing. When asked how he could achieve that, he passed them my name and I then got the call to Ealing Studios for a group casting.
I was shown how to move like a zombie and fall onto a crash mat and called back for a second casting with co-writer and director, Edgar Wright. We spent an hour in which Edgar dodged about with a hand-held camera while I tried to catch him in a zombie style. This amounted to my first, actual casting and it was a whole lot of larking about. I got the part.
Zombie method
I appear in three scenes early in Shaun Of The Dead, loitering in the background in two location scenes around the shop and then in my now, iconic, 'he's got his arm off' moment in the protagonists' living room. Though these scenes are barely minutes apart in the movie there were three months between shooting them. The shop scene was the first days of filming and the living room scene, almost the very last days. Scheduling film production is a mysterious art.
The shop scenes were filmed outdoors in Highgate early on a Sunday morning. Between takes, the roads were open to traffic and I got to lurk between parked cars and rear up as the public drove by. I remember two children emitting delighted screeches of such frequencies they caused confusion at Jodrell Bank.
The living room scene, in which I get my head stoved in, is shot at Ealing Studios. The set is lit with hot, white, daylight effect lighting and in July (2003) with temperatures over 30C. I'm wearing a three-piece suit and a whole lot of makeup and theatrical blood and dirt. I complement this with a litre or two of my own sweat and achieve a zombie-like state of mind in no time at all.
I'm not the only zombie in that scene. It is close to the end of the three-month shooting schedule and Simon Pegg is tired and suffering in the heat more than me. At one point, Edgar sends him off to his dressing room for a lie-down and we shoot some bits we don't need Simon for.
Acting can be complicated in unexpected ways. What might seem the simplest thing on the screen can be very difficult to create. I have to stumble into the lounge where Simon Pegg and Nick Frost are watching telly, whereupon they throw things at me until Nick caves my head in with an ashtray. This is all quite physical, requires precise timing and involves me wearing a lot of costume, special effects makeup and ultimately, an exploding head rig.
Learning how to walk
On Strange, I had been introduced to 'marks' and how to time my movement between them. It was easy enough. On Shaun Of The Dead, though, it gets a whole lot trickier. As I wander in from the hallway to the lounge, I have two marks I need to make in a particular time frame. This is crucial because the camera is on a dolly and is moving to change the frame. With this, the puller has to adjust the focus. If I don't make my marks at the correct times, the take is screwed.
So I have to count the beats in my head and get my movement timing spot-on and everything will sync for the scene. Except that I am a zombie and there must be no regularity in my movement. I have to count my seconds but my movement must be random with no rhythm. This is like rubbing your belly and patting your head at the same time but much harder.
I'm very hot and uncomfortable in my get-up, and I struggle. The focus puller gets annoyed with me and the first assistant director (AD) steps in to my defence. My second acting role and I'm learning how difficult this job can be. And I've not had any lines to learn yet.
He's got his arm off!
The only people I was telling of my acting exploits were the ones who needed to know. I was, and remain, superstitious in that I fear if I brag about a role too soon my scene will end up on the cutting room floor. Consequently, I do not talk about Shaun Of The Dead until I know I am in the final edit. A lot of my friends find this out before I do.
Simon Pegg told me his line; 'he's got his arm off!' was his all-time favourite movie line. Whether this still holds true I don't know but I know originally, it had a 'fucking' before 'arm' but that was cut because Simon and Edgar liked the scene so much they wanted it in the trailer. The trailer showed in America and on inflight movies before I saw it in the UK and so I started getting text messages from friends who'd spotted me. Guess what the messages said…
Better than the Oscars
Daniel Day-Lewis might have a bunch of Academy Awards but has he been Lego'd? Or knitted? Or is that crocheted? The fandom generated by Shaun Of The Dead has seen my first film role honoured in ways which, for me, are far greater than any Oscar. They hand those out every year like parking tickets but tributes like these are the real deal
Driving lessons
Another trade secret I learned on Shaun Of The Dead is that your driver is your best friend. As an actor in a character role, you'll be assigned staff that look after you, starting with a driver. Your driver collects you when it is time to go to work and drops you home at the close of play. Start your first working day by befriending your driver and then pumping them for their stories of the A-listers they have driven.
Your driver is yours alone for the duration of your filming job and they take good care of you. On Shaun Of The Dead, my driver takes me by the supermarket for shopping, my local chippy for a fish supper and drops me at the pub to catch up with my mates. Each time, I get the fully-chauffeured treatment. The car is a big, luxury sedan and the driver is suited and booted and does the doors for me. You get the same treatment as the A-lister they were driving on the job before.
I have a man for that
I'm on location for the Will Ferrell and John C Riley movie, Holmes and Watson. I am bored in my trailer and decide to walk to the set to watch what is going on. Two steps outside and one of my two PAs, Izzy, is at my heel asking if I need anything.
'I'm bored, ' I say, 'I'm going to go and watch the filming.'
Izzy is straight on the radio for my driver and to advise the ADs I'm on my way to the set. My car pulls up. I've got a distance of barely 80 metres to cover.
'I'll walk, Izzy, I want to stretch my legs.'
She sends my driver away and updates everyone as to my location and intentions while keeping pace beside me.
Later, I'm back in my trailer and costume is putting clothes on me while hair and makeup titivate.
'Anything you need?' they ask.
'Wouldn't mind Radio 4 on,' I muse, pensively.
Someone is on the radio and moments later a chap appears at the door in a baseball cap and utility vest with an array of tools that would make a rocket scientist jealous. My staff discuss my Radio 4 needs and the engineer carefully opens a drawer and takes out a remote control. He switches on the digital TV pinned up in the corner, selects Radio 4, sets the volume, looks to me for approval. I nod. He sets the remote on the chest of drawers as if he's demonstrating it on the Shopping Channel, and then he is gone. I have people to put my radio on for me.
Fearless Planet
I was cast as Major John Wesley Powell for a documentary about the Grand Canyon. Powell was an enthusiastic geologist who was the first to map the length of the Colorado River. He was also a major in the Union Army who'd also lost an arm to gangrene following a gunshot wound during the Civil War, hence me getting the role for the recreation of his expedition. After filming a scene with a boat capsizing, I waded out of the river and was advised by the crew that I could walk through trees into the car park where my RV was parked. I emerged from the trees to see an elderly couple sitting at a picnic table outside their RV. As I strode across the car park, in full costume and soaked to the waist, the gent stood up and declared; 'Major John Wesley Powell, you look well for your 150 years!' 'Thank you sir,' I replied, 'you're looking well yourself.'
What's the worst thing that could happen?
TV and movie acting is one thing but theatre is quite another. I bullshitted about wanting to get into theatre, confident there was no danger of that happening. While pretty much anyone can blag their way into television and film acting (obviously), theatre is a different ballgame. If you are not formally trained and experienced, you won't even get to a casting.
So when Louise, my agent, says she has a casting for me for a play at Nottingham Playhouse, any terror I might have at the prospect of getting a one-and-a-half-hour performance in my pocket for seven shows a week is moderated by the fact there's no chance I'll get the part. What's the worst thing that can happen?
I go to the casting and give it my best shot. I miss by a mile and I don't need to wait for the phone call I'm not going to get to know, I've not got the part. A month later, the show is in rehearsals and I get a call, they want to see me again.
I have a couple of days to get book-down on a scene and catch the train to Nottingham. I don't know why I've got this second chance but it feels like the Fates have a hand in this and I really must not screw up this opportunity.
I give it my new improved best shot. I'm still on the train going back to London when Louise calls me. I've got three weeks before the show goes up and I've got a script to memorise and also, learn how to act for theatre. Bloody hell.
Dead man's shoes
Two weeks later and I am completely out of my depth. Getting the part, it seems, was the worst thing that could happen, or so I think. But when I ask why they called me back for the part, they tell me the guy who was their preferred choice for the role died in the first week of rehearsals. Not metaphorically, literally. Failing is not an option, I've got to do this.
Rehearsals are intense. We start at 9am and work through until 6pm each day, six days a week. The volume of work seems, to me, insurmountable. Just learning the script feels impossible and then there is all the acting you've got to do while you are reciting your lines. I'm two weeks into rehearsals and I feel I am in no way equipped for the job but too far in to drop out.
A week later, though, the show goes up and no disasters. All my lines, my actions, my marks, everything works. I'm not going to win an Olivier award but I'm not going to get fired either. The terror before my first curtain-up and the elation at its first fall is beyond anything I have ever experienced.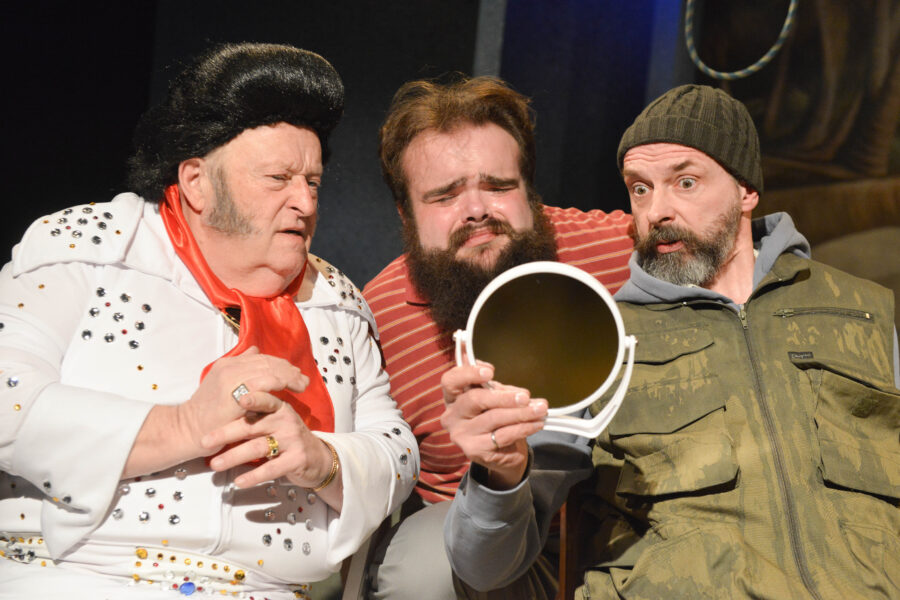 The play; Kings by Daniel Hoffman-Gill, is a powerful tale that reels from outrageous comedy to dark drama with no regard for the audience's emotional well-being. I'm in my heart-rending back-story speech, I'm addressing the audience and I make eye-contact with a woman in the third row. I hold her gaze as I continue and she is clearly on the edge of tears. I choke, just briefly. I realise that I am provoking such a response in my audience because I am right on the edge of believing my own story. I am pretending, everybody knows that, but equally, it feels real.
What a performance
Backstage, after the curtain calls, the cast indulges in a lot of hugging and some crying. It's not a 'luvie' thing, it is the inevitable consequence of putting yourself through the emotional wringer of enacting a dramatic and turbulent story, topped with the responsibility of producing a performance to satisfy the expectations of a fee-paying audience and supporting your fellow cast and crew.
Imagine if your life was high drama for two hours every day, double with the matinees. It is no wonder we are all in the bar drinking after every show.
The Sacred Heart
Kings was not my first theatre role. I had my baptism on the boards in a collaboration with friends. Written and directed by Peter Jocula, The Sacred Heart was a biography of the life and music of Edith Piaf. The Kings Cross Hot Club played for Wednesday Grey as Piaf. Mine was the only scripted role, I played 'Monsieur Satan', narrating the story and stepping in and out of various characters. We performed the play at the Bridewell Theatre on Fleet Street and then reprised it for a celebration of French arts festival at the Cockpit Theatre in Marylebone. With hindsight, I might say this made the step up to Kings a little gentler but it did not feel that way in the heat of rehearsals. Nonetheless, I had a script to learn, moves to make and I was on stage for the majority of The Sacred Heart
A funny thing happened to me…
Acting is like war; 90 per cent boredom, 10 per cent sheer terror. One day of location filming on The World's End comprised me sitting and reading books for 14 hours in the green room – well, a bus. When I finished my last book I went to the set to ask Edgar when he would be needing me. 'Oh,' he said, 'I did not realise you are still here.' So they called my driver to take me home.
In my first Dr Who appearance, I was force-fitted into a cyberman outfit built for someone an inch shorter than me. It was like being locked in a trunk and under the studio lighting, the heat and confinement reduced me to panting like a dog in a parked car.
I fell asleep on set filming Kenneth Bragnah's take on The Magic Flute. I was a casualty of war with a nurse perched on my bed. When I woke up, horrified, I asked her if I'd been snoring. 'Don't worry,' she said, 'you weren't the only one.'
A chair, an important prop central to a scene in the play, Kings came apart one night. My opposite number in the action, Dominic Grove, and I improvised while we tried and failed to reassemble it. Then we just picked up the script and I refigured my moves without the chair to sit on. I'm still quite amazed that I did not panic and freeze. In the bar afterwards, an audience member asked us how we had constructed the chair such that it would come apart on cue like that.
Peter Capaldi introduced himself to me (like I would not know who he was!) at the start of filming for my second Dr Who appearance. At the end of the day, he thanked all the cast and crew, saying it had been a pleasure to work with us, then he went full Malcolm Tucker and told us, 'now fuck off, all of you!'
Winging it
I'm not alone. I've found that of the people I have worked with, as many have wandered into the business by unplanned routes as have by planned ones.
My driver for Holmes & Watson, Graham Hill (his father was a big motorsport fan) was just such a person. An HGV driver and, inevitably, a fan of motorsport, he fancied driving a rig for a race team. One day, driving on the motorway, he spotted a rig and he copied the number off the side. He called the company and asked if they were recruiting drivers. They were indeed looking for drivers but they did not haul for race teams but for movie filming. Skip forward, and Graham now chauffeurs Hollywood A-listers (when he's not driving the likes of me).
When I said 'yes' to Sarah's offer of acting work, I had no idea where it would take me but I knew where 'no' would go. As I walked through those corridors at Ealing Studios for my very first professional acting performance, had I known where it would take me, I might have faltered. Certainly, my family might have preferred me back on a motorbike rather than hanging off the side of the Grand Canyon (for a Discovery Channel documentary) and if I had had a premonition of the terror I was going to experience in rehearsals for a theatre performance, I would have bolted.
But the gradient from those first, no-dialogue, physical performance roles, to character acting ones with dialogue and no costume to hide inside, have allowed me to climb to a place I never imagined I could get to.
Masters of our own destiny
Putting my life back together after losing my arm forced me to learn new skills. Routines I had performed so easily with two hands became new challenges with one hand. Tying shoelaces, changing duvet covers and opening packets of peanuts all had to be learned anew. In so doing, I realised I was capable of things I had never imagined before. Except for the duvet covers thing.
So that is how I come to be in a break in rehearsals for Friday Night Dinner, eating a sandwich and laughing as Tamsin Grieg and Paul Ritter tell anecdotes about back-handed compliments they've received from members of the public. Mark Heep remembers me from the two of us standing in the drizzling rain in a crowd scene in The World's End and Sally Phillips flirts with me in her Swiss au-pair comedy accent.
Whenever anyone asks, I say I got into acting by accident. Literally. It makes a funny story but the truth is rather more philosophical. I've said 'yes' when the opportunities have arisen and each 'yes' has created new opportunities. This has been the most valuable lesson I have learned in my acting career and in my life as a whole. Say 'yes', what's the worst thing that could happen?
Friday Night Dinner